 Dürr FD 360 500ml bottle
€ 

32,80

€ 
32,80

(€ 

39,69

Incl. VAT)
€ 

32,80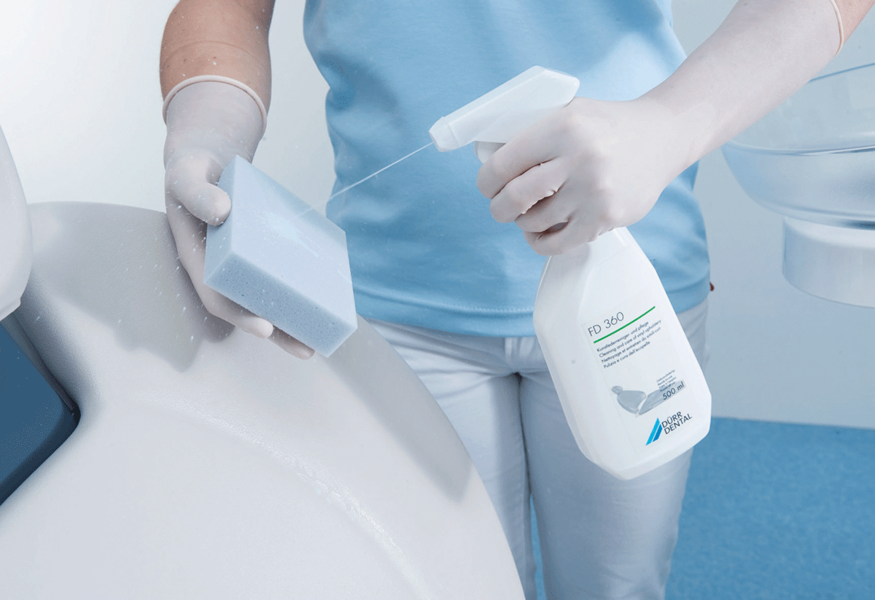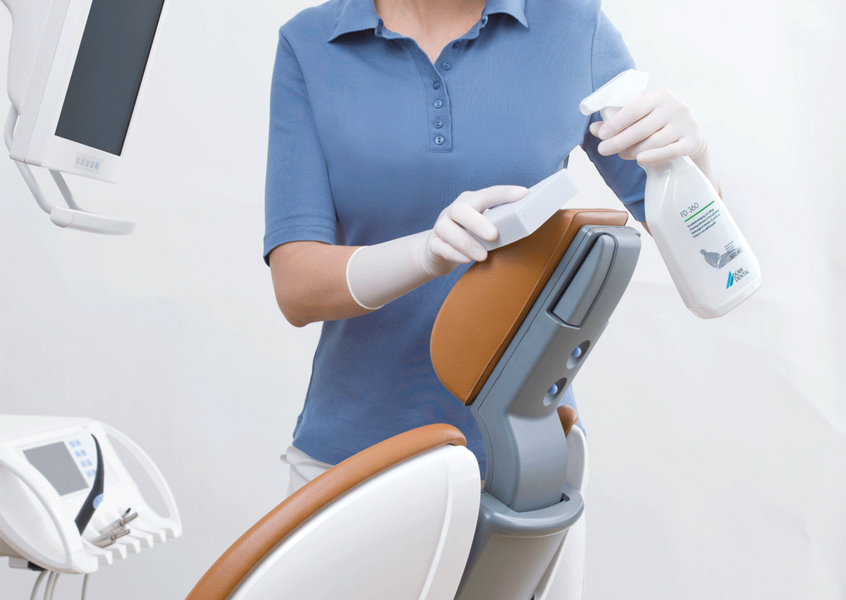 Dürr FD 360 500ml bottle
1
---
We charge the local VAT for the following countries: BE, DE, FR, NL and UK
Fast and affordable shipping
Return within 14 days
Dürr FD 360: cleaning and care of vinyl upholstery
Dürr FD 360 at a glance
▪ Cleaning fluid for deep cleaning and care of synthetic leather surfaces.
▪ Intensive cleaning action – removes stains of all kinds, spots, and discolourations.
▪ Excellent material compatibility - suitable for synthetic leather coverings.
▪ Environmentally safe, propellant-free spray bottle.
▪ Set with 500-mL spray bottle, 9 special sponges and 1 special cloth.
Properties
FD 360 from Dürr System Hygiene cleans and preserves all synthetic leather upholstery, significantly maintaining the value of treatment chairs and other furnishings with synthetic leather coverings. Simultaneous use of FD 360 and the special cloth cleans and cares for artificial leather surfaces. The special sponge also achieves rapid and pore-deep removal of stubborn dirt, stains or discolourations, e.g. from unfixed dyes of clothing. FD 360 provides for deep and intensive, residue-free cleaning and care with a silky shine.
Product composition
The FD 360 mechanism of action is based on a combination of special surfactants, silicone compounds, and avocado oil-based care components.
Directions for use
Apply FD 360 cleaning fluid undiluted. Spray FD 360 on the surface to be cleaned and and wipe immediately with the special cloth or, for intensive cleaning, rub in FD 360 with the special sponge, which achieves an even more thorough and deeper cleaning effect. Combining FD 360 with the special sponge removes even stubborn stains and discolourations from upholstery. Then remove any excess FD 360 by wiping the surface with a dry cloth. Use FD 360 daily, as needed. Environmental impact FD 360 is ecologically safe. It is applied using a patented, propellant-free spray bottle. The surfactants conform to the requirements for biodegradability. The packaging can be recycled or incinerated. For recycling: Flush bottles with water.
Physical data
Appearance: milky, white liquid
Density: D = 0.99 ±0.05 g/cm3 (20°C)
pH: 3.6 ±0.5
General instructions
FD 360 is safe for use on all synthetic leather surfaces. In the case of other surfaces such as leather, test for material compatibililty in an inconspicuous place. Observe the manufacturer's specifications for the treatment unit. The special sponges are not permitted to be used on leather. Changes in product colour/odour may occur, especially when stored in sunlight. However, these changes in colour and/or odour have no impact on the disinfection efficacy of the product.
Shelf life: 3 years
Package size: Set with 500-mL spray bottle, 9 special sponges and 1 special cloth in the box.
Storage: Store product at between 5°C and room temperature.
Hazard warnings: FD 360 is classified in accordance with the CLP Regulation and is not required to be labelled   
This is a preview of the recently viewed products by the user.
Once the user has seen at least one product this snippet will be visible.
Recently viewed Products